Fleet Vehicles: Lease vs. Buy [13-Point Comparison Chart + Analysis]
When making the decision whether to lease vs. buy your company's fleet vehicles, there are many factors to consider. Both options come with short and long-term benefits, as well as a few disadvantages. Read on for our fleet leasing vs. owning analysis.
Fleet Leasing vs. Owning Analysis
Below is a quick look at the most notable advantages and disadvantages of fleet leasing vs. owning. We will dive into more detail throughout this article.
| | |
| --- | --- |
|  Leasing | Owning |
| Only Pay for the Portion of the Vehicle You Use | Pay for the Entire Cost of the Vehicle by Financing or in Cash |
| Lower Vehicle Acquisition Costs | Requires Significant Capital to Acquire Vehicles |
| Lower Monthly Payments | Higher Monthly Payments |
|  Monthly Payment is Matched to Vehicle's Market Depreciation | Monthly Payment is Not Typically Tied to Market Depreciation |
| Flexible Leasing Terms | Inflexible Purchasing Terms |
| Short-Term Leasing Allows Temporary Scaling to Meet Peak/Seasonal Demands | Under-Utilized Vehicles Are Retained for Longer Periods and Can be Difficult to Dispose |
| Save on Fuel and Maintenance Costs | Establish Equity |
| More Cash Flow Flexibility | More Budgeting and Forecasting Costs |
| More Control Over Vehicle Cycling for Lower Non-Preventative Maintenance Expenses | Longer Lifecycles, Which Can Increase Non-Preventative Maintenance Costs |
| Cost-Effective, Simply Way to Upgrade to Newer Models | Vehicles are Cycled Less Often Because of High Investment Costs |
|  Lessor Takes Care of Vehicle Disposal | Owner Must Arrange for Vehicle Disposal |
| More Control Over Vehicle Selection and Standardization | Allows for More Vehicle Variety |
| Less Age-Related Maintenance Problems | Owner is Responsible for All Maintenance and Repairs |
1. Finances
Leasing
Leasing a vehicle means that you only pay for the portion of the car or truck that you use. There are traditionally two different types of fleet operating leases:
Open-End Leases
These are flexible leasing structures without mileage restrictions or penalties. The vehicles can be returned at any time after the minimum terms have lapsed.
Closed-End Leases
These leases set fixed terms for mileage allowances and return dates. There are penalties for returning the vehicles early and exceeding the mileage allowance. Fleets with low mileages benefit most from this type of lease.
See more about open-end vs. closed-end leases in our in-depth article here.
By leasing, since you are able to spend less each month, your capital can be utilized elsewhere to grow your business. Depending on the type of lease you select, you will earn different financial benefits for your company. With the operating lease, you can obtain tax benefits by deducting 100% of your lease payments from your income statement. Or, you can claim depreciation and deduct the interest expense from your lease payments under a capital lease.
Purchasing
Purchasing means that you pay for the entire cost of the vehicle, either through cash up front or by financing.
Owning vehicles provides several benefits. You do not have to worry about any penalties or fees if you exceed a certain mileage. Once the vehicles are paid off, you are no longer under any legal contracts and you retain the title which can make transferring vehicles easier.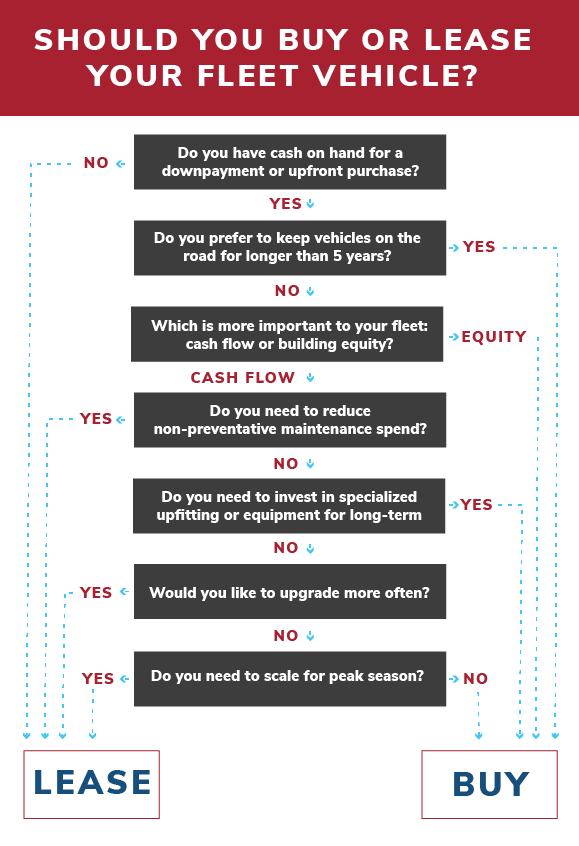 2. Incentives & Discounts
Leasing
When you go through a leasing partner or a fleet management company, you can be sure that you will always find discounts and incentives on vehicles. These partners have relationships with auto manufacturers that can result in volume discounts and negotiated services that save you both time and money.
Purchasing
When purchasing vehicles for your fleet, there is always a chance that you can find discounts and incentives by working directly with a dealer. However, these may be few and far between and will not prove beneficial if you need to acquire vehicles quickly.
3. Company Image
Leasing
Under lease agreements, you will be required to return (or purchase) your vehicles at the end of the terms. This helps companies upgrade to newer models on a more frequent basis than if they chose to purchase, which prevents outdated vehicles from staying on the road for too long.
Purchasing
If you own or finance your vehicles, you may have them for a longer period of time than you would if you chose to lease. Purchased vehicles tend to be on the road longer and can experience more damage or simply start showing their age. Additionally, your drivers do not benefit from the newest technologies when relying on older vehicles, like better navigation, communications, and safety features.
4. Maintenance
Leasing
When leasing, leave the fleet maintenance management headaches to your fleet management partner. Costs are often lower and can be included in certain leasing tiers,  sometimes at predictable fixed costs.
Also, leasing newer vehicles reduces the amount of maintenance issues that otherwise fall on an older and aging fleet that you own.
Purchasing
If you purchase your fleet, you are in charge of the maintenance on your vehicles, which can cost you valuable time and money. However, you will not be held to strict timelines for maintenance or repairs and may have more flexibility when choosing where to take your vehicle for service.
Leasing 
Owning

Various Tiered Options Available
Fixed Monthly
Fees or Pay as You Go Options
Discounts and Volume Incentives Available
Service and Maintenance is Customized to Your Fleet

Maintenance is Pay as You Go
No Strict Timelines for Service or Repairs
No Limitations to Where You Take Your Vehicle
Discounts and Volume Incentives are Not Available
5. Consulting & Support
Leasing
When leasing from a reliable fleet management partner, you can benefit from a tailored selection of services, including:
Analytics and Reporting
Lifecycle Optimization
Total Cost of Ownership Analysis
Customer Service and Support
Fleet Remarketing
Driver Safety Training
With a leasing partner or fleet management company, you usually will have a project manager or team assigned to your account. They will be responsible for monitoring your fleet's lifecycle and supporting your needs.
Purchasing
If you do not have a fleet management partner and own your vehicles, you are responsible for the analysis of all fleet data. You will also need to manage your vehicle inventory, consolidate invoices and costs, and source insurance and other services to help keep your fleet running.
6. Vehicle Cycling, Replacement & Remarketing
Vehicle remarketing and replacement are part of a vehicle cycling strategy. This is a plan that fleets put together that defines when vehicles should be replaced, and considers factors like mileage per year, optimal timing, and potential financial impacts.
Leasing
Fleet leasing was designed to provide set vehicle cycles. Before signing a lease agreement, the terms will define how long you will have the vehicles, the residual value of the vehicles, and the return or purchase process. Your leasing partner or fleet management company will dispose of the vehicles for you and help you determine replacement options.
Purchasing
Fleets that are financed or owned have undefined lifecycles, and you retain full control of the vehicles once you have the titles in hand. With this control, you must determine when, where, and how to dispose of the vehicles. You will also be responsible for pricing the vehicle.
7. Fuel Management & Costs
According to Automotive Fleet, "fuel represents, on average, 60% of a company's total fleet operating budget, which makes it crucial to manage this expense to keep fleet budgets from getting out-of-kilter."
Whether you are leasing or purchasing your vehicles, fuel management programs are available to help you save money at the pump and better track your company's fuel spend.
Fleet fuel cards offer rebates for the amount of money that companies spend, which can save costs. Compared to using a company credit card that only shows the balance spent on fuel, there are far more detailed analytics that you can glean from each transaction. This information includes how many gallons, the price per gallon, the exact time and location of the purchase, and other data. This is all valuable information when evaluating overall fuel spend.
In addition, a fuel card with a PIN management system can alert your company when there may have been a fraudulent purchase. For example, if a fuel card was used in upstate New York at 12 p.m. on a Monday and then used again at 6 p.m. the same day in Nevada, the fuel card will identify this as suspicious and lock to avoid further use.
Many leasing partners and fleet management companies offer fuel management and fuel card programs as part of their typical services, so leasing your vehicles may offer the advantage of keeping all operations under one roof. However, if you own or finance your vehicles, you have the option of working directly with a fuel card provider or with a fleet management company for this service.
8. Depreciation
Vehicles depreciate as mileage increases, whether the vehicle is leased or purchased. The difference is the up-front cost, which can be lower with manufacturer discounts and incentives gained from leasing.
Leasing
Your monthly payments will also be much less if you lease. This is an affordable and efficient option for fleets because you can preserve capital and then reinvest the money you save into other areas of your business.
Leasing also avoids the logistics and difficulties of selling a depreciated vehicle. At the end of your terms, you return the vehicle and the leasing company handles the next steps for the vehicle.
Purchasing
If you purchase a vehicle, you do not have the same opportunities for discounts from a leasing company. You will also be responsible for selling your depreciated vehicle once the time comes. However, you will be earning equity with every finance payment and the depreciation of company vehicles is tax deductible.
Most fleet vehicles are heavily used, which leads to significant depreciation in less time than consumer vehicles. The U.S. Department of Energy states that the average vehicle travels between 11,467 miles (for cars) and 62,751 miles (for Class 8 trucks). This is important to keep in mind as you analyze your fleet leasing vs. owning options.
For more information on the cost differences between leasing and buying, contact us today and we can help you make the right decision for your fleet.